Bone broth has been shown to have several health benefits to dogs including improved joint and digestive health. Not only is it a delicious treat for your dog but it can also provide several vitamins and nutrients to boost their health. Follow these simple steps to make your own bone broth at home for your dog.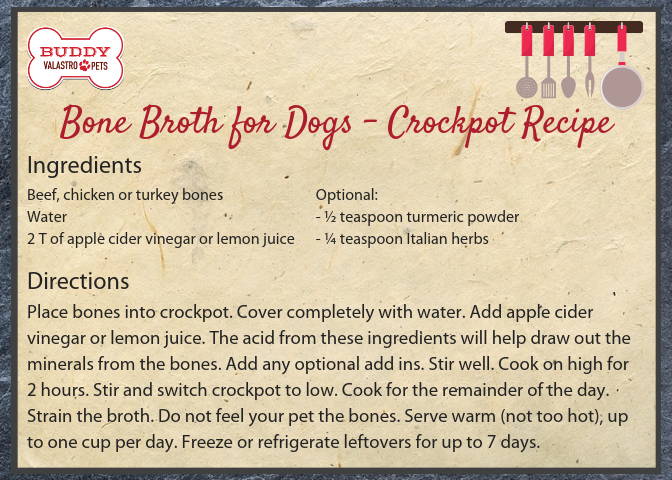 Beef, turkey or chicken bones (leftover from a meal)
Water
2 tablespoons apple cider vinegar or lemon juice
Optional add ins for health boost:

½ teaspoon turmeric powder
¼ teaspoon Italian herbs (sage, rosemary, thyme, oregano, basil)
Place bones into crockpot.
Cover completely with water.
Add apple cider vinegar or lemon juice. The acid from these ingredients will help draw out the minerals from the bones.
Add any optional add ins.
Stir well.
Cook on high for 2 hours.
Stir and switch crockpot to low. Cook for the remainder of the day.
Strain the broth. Do not feel your pet the bones.
Serve warm, up to one cup per day. Be sure it is not too hot for your dog.
Freeze any leftovers or cover and store in the fridge for up to 7 days.
Note: Bone broth is also available at most grocery stores. If you choose to buy and serve instead, be sure to purchase a low sodium bone broth.